The worldwide outbreak of the COVID-19 virus has forced everyone to relocate their lives online. Since the beginning of the pandemic, the world of the internet has expanded tremendously, and is now in charge of most of our daily activities. Due to quarantines, lockdowns, and other precautions, it is now impossible to complete any transaction that requires access to the Internet. But may internet marriage counselling be effective?
If you go into it with the appropriate frame of mind and work with the best therapists, the short reply is yes. Therapy offers convenient and private online therapy sessions for those who prefer not to leave the house. Relationship problems can be addressed by one of their licensed marriage and family therapists.
The "Holy Grail" of each relationship is trust. However, can it be enhanced through virtual interventions? Learn from this article how online marriage counselling can help strengthen your connection with your partner of choice.
The Process of Virtual Counselling
Due to the differences between online and in-person marriage counselling sessions, certain couples are hesitant to give it a try. Trying something new might be nerve-wracking, but couples counselling over the Internet makes it easier to fit into hectic schedules. Let's start with the benefits of online treatment sessions.
You can attend sessions in your pajamas without having showered (or even brushed your teeth). You need to get out of bed and log on to the web. It all comes down to the quality of the therapist and the specifics of the online marital counselling programme.
There are several marriage counselling resources available online, including websites, apps, and reviews written by couples who have used those services. Your online appointments can be scheduled and attended from this page.
ZOOM and related services are often used by online counsellors to conduct client sessions. Some therapists may find this arrangement difficult, but skilled observers of nonverbal signs like gestures, postures, and body language won't miss a thing. Clients who use the services of therapy for couples counselling may have suffered emotional wounds as a result of their relationships. They are prepared to provide them with the sound guidance and support they require to take the next step. They work with the client to develop attainable objectives.
Online Couples Therapy: Pros and Cons
Through online marriage counselling, distressed couples from all over the world now have access to therapy. Couples who use virtual therapy report a marked improvement in their ability to communicate with one another and revitalise their relationships. Some of the advantages of opting for online counselling are as follows:
One advantage of Online Couples Counselling is its Availability
Finding a marriage counsellor who is willing to come into the workplace can be difficult. It can be uncomfortable and time-consuming to drive all over town in search of a licensed mental health expert who specialises in helping couples work through their marital problems. Licensed therapists who come highly recommended often have waiting lists and limited availability for in-person sessions.
Finding the right therapists to work with might be a lot less of a hassle when you get marriage counselling online.  It takes less than two minutes to schedule an appointment, and you aren't going to wait hours or days to hear back about your request. With only a few mouse clicks, you may get reviews and ratings of the best marriage counselling sites that have helped other couples.
The Cost of Online Therapy Is Lower
Online couples counselling can be just as expensive as in-person treatment, but it may save you time and money if you have to travel or take time off work to attend sessions. Although paid virtual couples counselling is available, many free resources are available to couples, including relationship applications, websites, e-books, articles, and journals.
Confidential Sessions Are An Option
It can be nerve-wracking to try out marriage therapy or premarital counselling for the first time. It can be difficult to put yourself out there in front of a stranger and share intimate information about your life. This is why talking to a therapist in confidence about your romantic relationship is so important.
Therapy sessions conducted online may offer greater confidentiality than those conducted in person. When you and your partner seek help through online relationship therapy, no one needs to know that you're going through a difficult time in your marriage. Counselling sessions are confidential since they take place in the comfort of your own home. And if you feel like crying during your session, you don't have to worry about the other couples in line finding out. Better outcomes are possible with online counselling as well. You and your spouse will be able to open up to the marriage counsellor more if you eliminate any possibility of an outsider overhearing your session.
More Regular Therapy Sessions Become an Option
A regular therapy session is just as crucial to the success of the counselling as the couple's dedication to their sessions. Consistency and regularity in your sessions with therapists are the two most important factors in achieving desired outcomes. With online therapy, you never have to miss a day of work or worry about being late due to traffic when you need to reschedule your sessions.
In more remote places, it may be a long trip before you reach the closest couples counselling service. People with physical or mental impairments may also have difficulty leaving their homes. With marriage counselling available online, persons who are physically unable to travel or who live in remote areas can always get the support they need.
You Have Options When Choosing a Counsellor
With online counselling, you can choose a relationship therapist with whom you feel most at ease and tailor your sessions to your specific needs and goals. Now that distance is no longer an issue, you can select from a larger pool of more qualified licensed marriage and family therapists. If you want to work with a reputable relationship coach but they're out of town or abroad, that's not a problem.
Tips for Making the Most of Online Marriage Counselling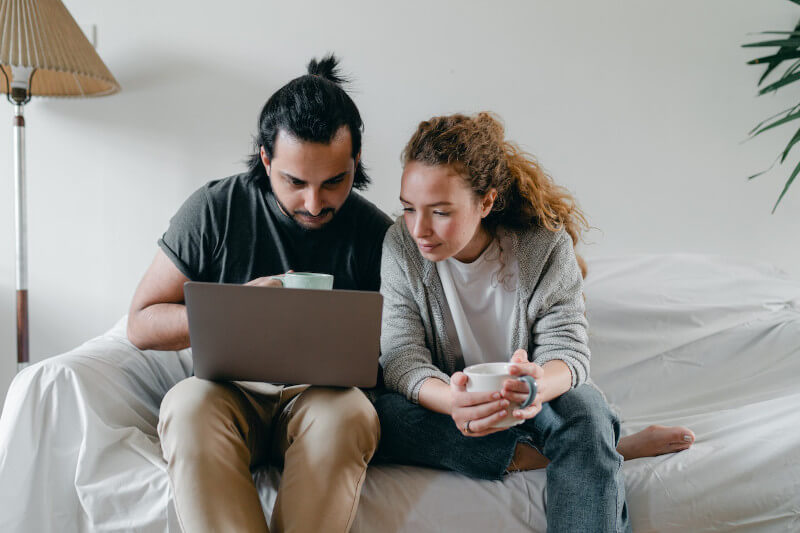 When you first sit down with a trained marriage counsellor, many of the potential roadblocks to your regular appointments disappear. In addition, couples can find a variety of possibilities through virtual counselling services. We do recover's tips and strategies for rebuilding relationships that may have been strained or damaged over time.
Counsellors specialising in marriage therapy provide attentive service, allowing clients to get insight into how to improve their relationships. They help their customers make good choices for themselves and their futures. If you want to make the most of your online therapy sessions, here are some tips that may help you get ready.
Attempt to Have Only One Screen Open While You're Together
With tools like Zoom and Facebook Messenger, you can hold a three-way video conference from different locations. However, if you want to get the most out of treatment, it's best to sit down with your partner in front of a single screen. For the therapy to have any effect, sensitivity, and a physiological link is required. Your therapist may be able to see more of what's going on in the conversation without having to stare at either side of the screen and risk missing important body language.
Second, you should be prepared for some initial awkwardness when engaging in online couples therapy as opposed to traditional in-person marriage counselling. Feeling uncomfortable during the first session is normal. Adapting together with your spouse or family therapist will take time, so you mustn't close off communication.
Attempt to Decrease Tech Problems
It is possible to run into technical difficulties during online treatment sessions, such as losing control settings, experiencing dropped or poor connections, having problems with the microphone or audio, or using incompatible software. You may avoid this by getting your equipment ready a minimum of one hour before your session is due to begin.
Make an effort to Adjust to the Therapy Environment and Structure
Online marriage counselling differs from traditional face-to-face therapy. For virtual counselling to be productive, your licenced therapist may employ a particular communication style or set of tools. Since this is different from conventional therapy, you and your partner will need to be adaptable. Understanding the characteristics and impact of intimacy disorders on relationships. Your online counsellor may combine tools like instant messaging, video chat, and phone calls to best serve you. To reap teletherapy's full rewards, you'll need to be willing to try out a variety of coaching methods.
Make Therapy-Friendly Spaces
The convenience of being able to engage in marriage counselling whenever you like is one of its many advantages. But it doesn't imply you can do it just about any place. Find somewhere peaceful where you and your partner won't be disturbed and where you'll both be able to focus on the session and speak openly and honestly with the counsellor. The damaging effects of blackmail and emotional abuse in personal relationships can be devastating and online therapy is a very simple too that can really help.
To prevent them from disrupting therapy, consider putting the children to sleep or having them play in a different space with a babysitter. A more personal connection can be achieved in therapy sessions when they are held in a more restricted context, such as the patient's own home.
To facilitate healing and treatment, online therapy offers online marriage counselling using empirically-supported, high-yield modalities of therapy. Their licensed mental health experts have received the necessary education and experience to deal with situations like these.
Marriage Help FAQs Online
Does Online Marriage Counselling Work?
Yes, marriage counselling done online can be very helpful. Even more so with the current COVID-19 outbreak, internet access, cell phones, and computers play a crucial role in healthcare innovation. It has increased access to medical treatment, especially in previously underserved rural areas.
It is reported that virtual therapy is more popular and has proven helpful to many persons in need of mental health care. While there is no substitute for face-to-face therapy, some couples may find more comfort and inspiration in using technology as a first step toward getting the support they need. Romance can have dangerous pitfalls.
It doesn't matter how well you and your partner get along, you'll still have disagreements from time to time. This is natural given that every couple has two own sets of priorities, beliefs, values, and perspectives. Expecting your partner to share all of your opinions is impractical. By facilitating equilibrium and expectation management, counselling can aid in the restoration of once-healthy relationships and the promotion of individual development for all involved.
Can Anyone Benefit From Couples Counselling Online?
Not everyone can benefit from it. Marriage counselling online may not be the best option for every couple. In addition, not everyone is comfortable with modern technology and software.
What Should I Look for in an Online Couple's Therapy Service?
There are a plethora of options when it comes to online treatment apps. However, there are several things to take into account. What kind of software do you prefer to use for your therapy sessions, for instance?
Texting, video calling, emailing, and chatting are all viable options for the therapy. You should investigate the app's services, costs, and the authenticity of its therapists. Read up on the company's licensed therapists and the effectiveness of their programme by looking at online reviews.
Online marriage counsellors are available whenever you need them, and they will treat you with the utmost respect and expertise. Marriage counselling, premarital counselling, relationship guidance, a couples therapy program, group therapy, and more are all services they provide.
To get the online counselling you need, all you need to do is make an appointment through. After each session of marriage counselling, you can anticipate feeling closer to your goal of saving the marriage. Their online counsellor can help you accomplish the same goals as in-person counselling.
Reach Out to Us Right Away
Working with the correct mental health practitioners, virtual therapy can be just as helpful as in-person therapies for couples dealing with difficulties in their relationships that are hurting other parts of their lives. Most online therapy portals employ a staff of licensed and qualified professionals to give individualised services to each client.
They also provide low-cost, flexible virtual therapy. Confidentiality is always protected during therapeutic counselling sessions with their team of professionals. Allow them to assist you in making significant strides towards bettering your mental health and interpersonal relationships! When you need someone to talk to about your feelings, they're here for you.